What is the TSR?
The FTC's Telemarketing Sale Rules (TSR) have regulations to assist law enforcement as well as consumers. It gives the FTC and the state attorneys general law enforcement tools to fight fraud in telemarketing; it provides consumers additional privacy protections and protection against unscrupulous telemarketers and it assists consumers in discerning between legitimate and fraudulent telemarketing.
The most important features that are part of TSR include, but are not limited to the following: mandatory disclosures, prohibited misrepresentations time limits for calls, mandatory information on caller ID messages and abandoned outbound call limitations, billing, and payment limitations, upsell obligations as well as pre-recorded messages restrictions and obligations for record-keeping.
However, with a few exceptions, the majority of communications between the telemarketer and enterprise are exempt from the TSR and telemarketers typically depend on the B2B exemption to the applicable Do Not Call (DNC) registry and other telemarketing regulations.
However, there is an exception.
How can telemarketers best approach businesses in relation to these consumers?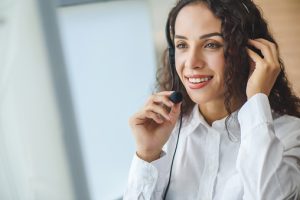 Recent changes made to the TSR clarify the B2B exemption from the TSR is only available to calls that induce sales from a "business entity." Also, calls to telemarketers that target customers at the location of business aren't B2B calls and are therefore excluded from TSR.
For example, a telemarketer who makes calls to a company line and then solicits employees to buy products or services they would like to use for their own usage or for personal charitable contributions cannot be exempted from the TSR's rules.
As you can see, it's not a good idea to believe that each call to solicit business between a telemarketer or business automatically is exempt from any of all or all of the regulations and the applicable federal and state do Not laws.
Telemarketers who rely upon the B2B exemption must make sure that they do not shift sales efforts to those who answer the phone if they are told that the "business" states that it doesn't need to purchase the item or product that is being offered.
If telemarketers are trying to offer consumers products suitable for both business and personal use they must abide by the requirements of the National DNC Registry, satisfy the requirements for disclosures, adhere to the internal lists of suppression, abide by call curfews, calling times as well as abandonment rate, in addition, to also ensure that the caller's ID information is correctly transmitted.
What are the wireless rules that work with B2B calls?
Another misconception has been that calls made through B2B are not subject to being in compliance with the Federal Communications Commission's rules for wireless dialing when using an automatic phone dialing system.
This isn't the case.
The Telephone Consumer Protection Act rule against calling mobile phone numbers using automatic phone dialing systems applies to calls made by B2B.
The use of a business wireless number by using an automated telephone dialing device without legally "prior express written consent" is not permitted. The fact that a business owner has registered the number online or listed it in a directory for businesses is not legal permission to dial.
In addition, marketers might not know if the phone number that is being called is an internet-connected number or a landline, or an office phone which doubles as a personal phone.
What else can businesses learn?
Additionally, many states have telemarketing regulations that are more strict in comparison to federal laws.
Although certain B2B telemarketing calls are exempt from the federal Do Not Call list law, states do not all exempt B2B telemarketing services under the law of the state. In different states, B2B telemarketers must also sign up and secure bonds prior to calling in or out of those states.
It is interesting to note that the TSR was clarified recently in other ways:
Recordings made to remember the donor's or customer's explicit authentic authorization must "clearly and conspicuously" state an exact description of the product or services offered, as well as the charity prior to accepting the payment. The seller and/or the telemarketer carry the responsibility of proving that exemptions are applicable.

Do Not Call Registry fees cannot be divided among many sellers.

The various types of obligations that impede consumers' rights to be included on the DNC list that is internal DNC listing were clarified.
How can businesses ensure their security?
B2B telephone calls are subject to similar Telephone Consumer Protection Act wireless calling limitations like B2B calls. The legality of telemarketing practices can be significantly improved by clearly separating the campaigns that target business customers and consumers on their own. B2B telemarketers should be careful to check consumers' Do Not Call lists due to the dangers inherent in mixed-use phone lines.
If you're interested in knowing more about this subject and how to use preventative compliance procedures get in touch with the author.
The information provided is solely for informational purposes and should not be considered as legal advice nor do they create a legal-client relationship. It is not recommended to take action or rely on any information contained in this article without consulting the counsel of a lawyer. The information on the previous results of a case cannot guarantee an identical outcome in the future.